Timeline
Spring 1951—lot at the corner of Texas and Bellview streets was purchased from Jack and Junior Reynolds for $3,300
June 1951—Earl Harvey appointed as first pastor
January 6, 1952—first worship service in brand new sanctuary. One hundred and eight charter members were on the roll.
Summer of 1953—new education building was erected
June 1955—Jack McGee appointed second pastor. His wife started the first choir.
1962—new brick parsonage was purchased. It is located on Tate Street. The backyard joins church property.
1969—Shirley Methodist Church voted to discontinue services and move its membership to Wesley
Spring 1971—new sanctuary was completed
1977—current education wing was built
1978—annual Fall Round Up started to raise funds to retire debt
1987—Wesley Hall was built
2010—Little Acorn School opened at Wesley
---
Pastors of Wesley
           Earl Harvey                1951-1955
           Jack McGee                1955-1957
           Linley E. Vowell           1957-1959
           James H. Westbrook   1959-1965
           William W. Penn          1965-1968
           Allie M. Davenport      1968-1973
           George Topper            1973-1981
           John Hawkins              1981-1982
           Ken Hildebrand           1982-1985
           Jerry Putnam               1985-1992
           Ben Read                     1992-1995
           Robert L. Spencer        1995-1997
           Larry H. Kruger            1997-2000
           Wallace A. Williams     2000-2003
           Steve Davis                  2003-2006
           Jerry Jones                   2006-2009
           Brian Bosworth            2009-Oct 2012
           E. Sam Campbell         Nov 2012-Dec 2013
           Ben Shinn                    Mar 2014-June 2014
           Steve Cook                  July 2014-
Pictorial
Ground breaking for Wesley Hall in 1986.
Current sanctuary in early years with unique rail surrounding pulpit.
Original sanctuary in 1950s.
Charter Members of Wesley:
Front Row: Etha Cromer, Bertie Minter, Mrs. Smith
Second Row: Mrs. Waters, Eva Miller, Ora Lovell, Mabel Tinney, Sam Tinney
Back Row: Mrs. Moore, Jack Huffstettler, Bonnie Huffstettler, Kathryn Minter, Ruthie Blount, Elvis Blount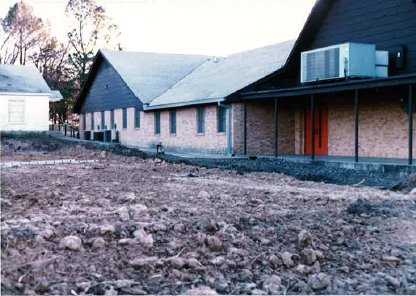 Wesley Hall location prior to construction.
Live Nativity scene at the corner of Bellview and Texas streets in 1950s.